Thank you for your interest in my work—I hope you find this information helpful.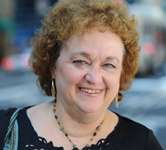 Tina Tessina
Check out Dr. Tina's
"Dr Romance Blog"
for information and a link to the blog.
Subscribe to Tina's
Happiness Tips Newsletter!
Happiness Tips From Tina:
An archive of practical how-to's
for making your life happier and healthier. A
new tip
is added every month.
Individual and Couple Therapy
In my psychotherapy practice as a licensed Marriage and Family Therapist, I welcome the opportunity to use my skills to help enhance your existing lifestyle, and to teach you the process for getting the very best out of your life.
Read about counseling opportunities.
Bestselling Self-Help Books
As the author of fifteen books, published in many languages, my goal is to give you the information you need to create the life you want.
Read about or order books.
---
---
Phone: (562)438-8077
email:
tina@tinatessina.com
All material copyright © 2018 Tina Tessina. All rights reserved.