ONLINE PRESS KIT
Ask Dr. Romance How to Stop Fighting About the Three Biggest Marriage Disasters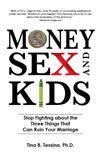 "With a Ph.D., 11 books, and 30 years of counseling experience under her belt…Tina Tessina has a lot to say about the everydays of life and love."
—Redbook, ivillage.com

Ask Paul McCartney and Heather Mills, Britney Spears and Kevin Federline, or any couple what issues raise turmoil in marriage and all will agree: money, sex, and kids.

Ask "Dr. Romance" (Tina B. Tessina, PhD) what to do about it, and she'll tell you what went wrong and how to fix it. In 30 years of successful marriage counseling, she has helped numerous couples repair their broken relationships.

When famous relationship breakups are in the news, when child-custody battles have led to bloodshed, when couples are facing financial disasters due to flood, fire or earthquake, Dr. Tessina can give you lively, timely, and powerful analysis of what went wrong, what to do about it, and how to avoid it in the future.

By breaking down proper etiquette for marital debate, as well as offering creative approaches to issue-specific problem-solving, Dr. Tessina will give your audience or readers simple, effective and practical solutions to universal problems. With 40 percent of all first marriages and 50 percent of all second marriages ending in divorce, America's 56 million married couples need help. Dr. Tessina offers struggling couples a much-needed fresh look at what is mean to be married—and what it takes to stay that way.

Her prescriptive, practical guide, MONEY, SEX, and Kids: Stop Fighting about the Tree Things That Can Ruin Your Marriage (Adams Media 2008) ISBN #1-59869-325-5 256 pages, trade paper, list $12.95; shows couples how to deal with these divisive issues and resolve them before divorce court is the only option.
---